Politics of Finland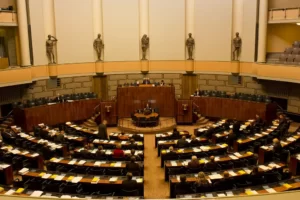 The politics of Finland take place within the framework of a parliamentary representative democracy. Finland is a republic whose head of state is President Sauli Niinistö, who leads the nation's foreign policy and is the supreme commander of the Finnish Defence Forces. Finland's head of government is Prime Minister Petteri Orpo, who leads the nation's executive branch, called the Finnish Government. Legislative power is vested in the Parliament of Finland in Helsinki, and the Government has limited rights to amend or extend legislation. The Constitution of Finland vests power to both the President and Government: the President has veto power over parliamentary decisions, although this power can be overruled by a majority vote in the Parliament.
Parliament
The 200-member Parliament of Finland (Eduskunta in Finnish) is the supreme legislative authority in Finland. The parliament may alter the Constitution of Finland, bring about the resignation of the Government, and override presidential vetoes. Its acts are not subject to judicial review. Legislation may be initiated by the Government, or one of the members of Parliament, who are elected for a four-year term on the basis of proportional representation through open list multi-member districts. Persons 18 or older, except military personnel on active duty and a few high judicial officials, are eligible for election. The regular parliamentary term is four years; however, the president may dissolve the eduskunta and order new elections at the request of the prime minister and after consulting the speaker of parliament.
Political parties
Centre Party (KESK), Social Democratic Party of Finland (SDP), National Coalition Party (KOK), Left Alliance (VAS), Green League (VIHR), Finns Party (PS), Swedish People's Party of Finland (RKP), Christian Democrats (KD).