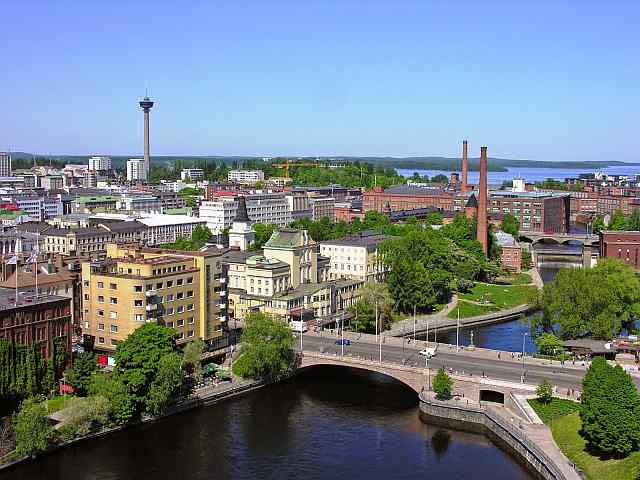 Tampere, founded in 1779 by Gustav III of Sweden, is a city in southwestern Finland. With 228,621 inhabitants, Tampere is the third largest municipality in Finland, after the capital Helsinki and Espoo. However, the agglomeration of Tampere is considered the second largest urban region of Finland (after Greater Helsinki) in all respects.
Tampere is located between two lakes, Lake Näsijärvi and Lake Pyhäjärvi. The city is divided in two halves by Tammerkoski rapids.
Tampere has been an important trade center since the 11th century, but the city has grown through the textile industry. The textile and other traditional industry has since disappeared from the city. Today, metal industry and electrical engineering are the most important industrial sectors; the city is also a center for all kinds of services. Tampere has a general university (University of Tampere) and a technical university, making it one of the largest student populations in Finland.
Tampere is a city of innovation and technology, and a city of culture and theatre.
Only one day to spend in Tampere? No problem! Tampere is a compact city with easy and quick access to the main attractions on foot, so a day can be enough to enjoy much of what Tampere has to offer.
Sights
Cathedral built from 1902 to 1907 under the direction of architect Lars Sonck, Finlayson area; via Satakunnankatu Street and over the rapids to end in the Finlayson area, also known as Old Town Tampere. There you will find the Finnish Labor Museum Werstas, Espionage Museum. Särkänniemi, amusement park with dolphinarium, planetarium and aquarium and the Moomin museum.